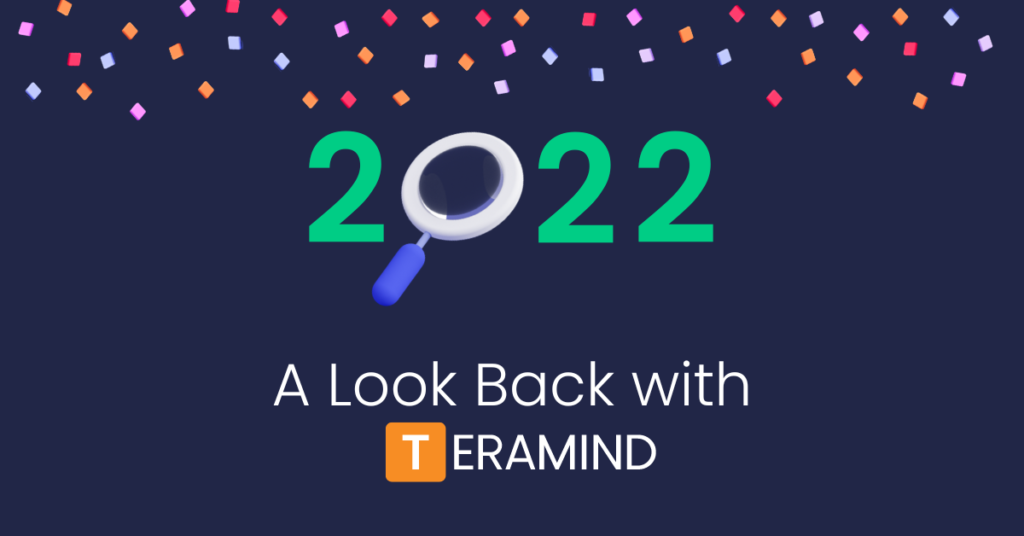 Announcement
2022 Recap: A Look Back with Teramind
From protecting against insider threats to improving productivity to achieving compliance, the type of behavioral data Teramind provides can be applied to any use case. Every year we find new ways for organizations to take advantage of these insights in order to further their objectives. And this year has been our biggest year yet. We've grown our platform, our business, and the way we serve customers. Check out what we've accomplished this year and what's coming as we continue to advance our user behavior analytics capabilities in order to help organizations meet their goals with data-backed context.
Named Best by Forbes
This year Teramind was recognized yet again for our comprehensive monitoring capabilities. And this time by Forbes! In November, Forbes named Teramind #1 Overall Employee Monitoring Software and we couldn't be more excited! Forbes joins PCMag, business.com, Finances Online, TechJury and Crozdesk in having named Teramind the best software for employee monitoring.
But getting awards doesn't mean our work is done. We plan to stay on top and have more in store next year to continue delivering the best and most comprehensive monitoring and behavior analytics platform on the market.
New Solutions for Business Enhancement
Teramind collects troves of granular and specific activity data that has helped countless organizations secure their data against risky behavior and increase productivity by understanding how employees behave at work. Now, Teramind offers a way to use that same data to improve overall processes.
Business Process Optimization
This year we released our newest solution, Business Process Optimization, or BPO.
The key to a successful business process optimization campaign is having an accurate and deep understanding of the individual workforce actions that make up a process in order to improve it. And that's exactly what Teramind's user behavior analytics delivers! Just take a look at our most recent case study that explores how a Forbes 100 financial institution achieved their BPO campaign through Teramind and was able to reimagine their customer due diligence process and remove 80+ hours of processing time.

New Features for Greater Control & Visibility
This year was a big year for the Teramind platform. Alongside the release of our BPO solution, came two new features that provide even more ways to customize Teramind in order to gather the specific behavior analytics you need and enforce behavioral policies.
In-App Field Parsing
Teramind's newest feature, in-app field parsing, might be its most powerful yet. Now it's possible to track field-level activities within apps and websites, even custom ones, as well as track content across processes. This lets you see how long users spend in an individual form field, or how long they spend working with specific content, like an account number.
Arming yourself with these types of insights informs productivity and security as it reveals opportunities for enhancing efficiency and effectiveness across workflows while also providing granular activity insights into sensitive data usage.

Scriptable Rule Logic
Customization is at the heart of the Teramind platform. Scriptable Rule Logic by Teramind enables you to configure Teramind in a way that solves your organization's distinct use case by creating completely custom rules that turn any activity into a behavioral metric and respond to policy violations in a way that meets your specific goals.
How businesses harness behavior analytics and automated policy enforcement vary. Now, regardless of how unique your use case or workforce behaviors, Teramind provides a way to monitor, analyze, and protect them.

Teramind Wishlist
We not only grew the platform this year, we changed the way it'll continue to grow over time with the release of Teramind Wishlist.
Teramind Wishlist is our feature request forum and customer-centric roadmap. Through Wishlist, you can tell us what you'd like to see from Teramind next, vote for other suggestions and track our development progress.
Our latest platform updates were chock-full of features we received from Teramind Wishlist, including new capabilities for bulk classifying activities as productive or unproductive and greater schedule customization. Check out Teramind Wishlist to see what's coming up next.

Teramind Academy
Behavior analytics and user data can be a powerful commodity for any business, but only if you know how to use it. That's why this year also saw the launch of Teramind Academy, our certification program that offers on-demand training to those who want to learn more about behavior analytics and how to use the Teramind platform.
Teramind Academy is open to the public and all courses are offered free of charge.

What's Next for Teramind in 2023
Every year at Teramind gets better, and we have even more exciting things happening in 2023. Here's what you can look forward to from us next year!
Partner Program Launch
January will bring a new year and a new partner program for Teramind! Teramind Partners can expect to see a new portal with more functionality and new customer- and use case-focused GTM Sales Kits and Best Practices that will help lead them to greater success.
The new program will also expand the types of partnerships we offer along with a flexible deal structure that prioritizes the growth and advancement of our partnerships. Existing partners can look forward to seeing the new program the first week of January, and prospective partners can visit our website to sign up for additional information.

Innovation with AI
In 2023 we're putting innovation at the forefront of our product development, and incorporating new smart solutions that layer AI capabilities on top of our comprehensive behavioral analytics. This will allow your user data to work for you, and further streamline your business operations and security.
RSA 2023
After over two years off the circuit, we're excited to announce that next year we'll be hitting the road once again and heading to an event near you. Planning to visit RSA in San Francisco this April? We'll see you there! We'll have two booths at the event, so stop by and say hi.
And RSA isn't the only event where you'll be able to learn more about Teramind. We'll be adding more events to our calendar soon and hope to see you there. Check out our events page to see where we'll be heading next.
Protect and enhance your business this year with Teramind