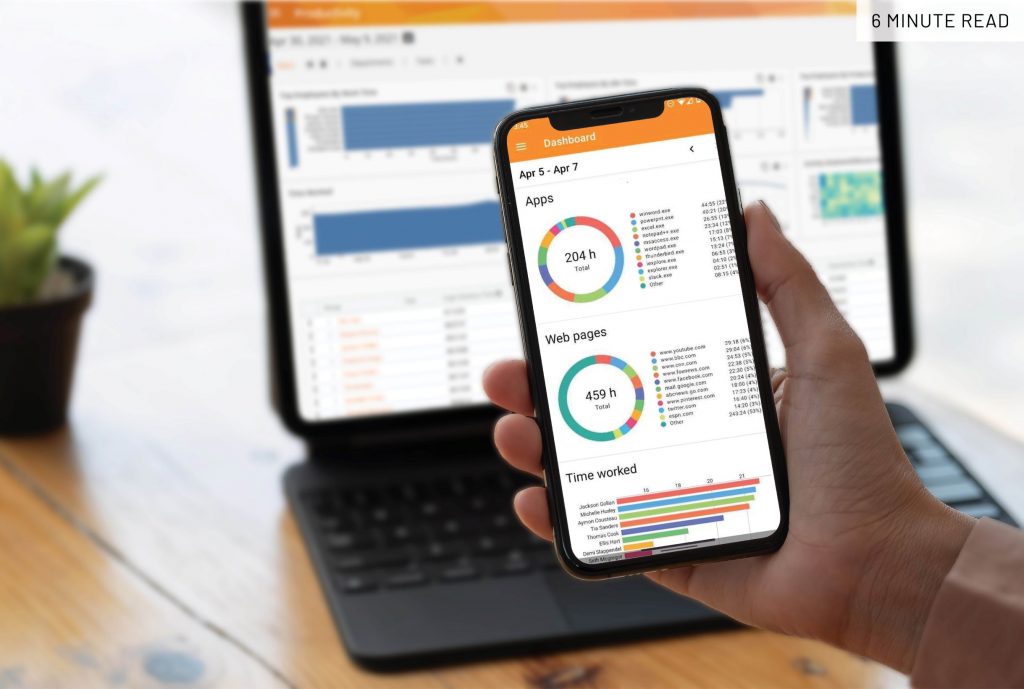 Feature Highlight
How to Set Up Teramind For Remote Work
Remote work is the new normal. What started as a response to the global pandemic has now become a permanent work model, and for good reason. Employee satisfaction and happiness have reached new highs with remote work while businesses supporting a remote model enjoy lower overhead, greater agility and a competitive edge when it comes to recruiting.
As the face of the office changes, organizations must implement tools and software that aid their remote staff. Teramind itself is a fully remote company with employees spread across the globe. Having first-hand knowledge of the challenges facing remote teams, Teramind was developed to include features that specifically respond to the needs of those working remotely. Discover how to set up Teramind for remote work below.
Tracking Productivity of Remote Workers
As an endpoint monitoring software, the information gathered by the Teramind Agent provides valuable insight into employee productivity and performance. These metrics are particularly useful for managers overseeing remote teams and act as a replacement for in-person check-ins around the office. Through Teramind's Business Intelligence Reports, or BI reports, administrators can see a visual breakdown of how employees are spending their time.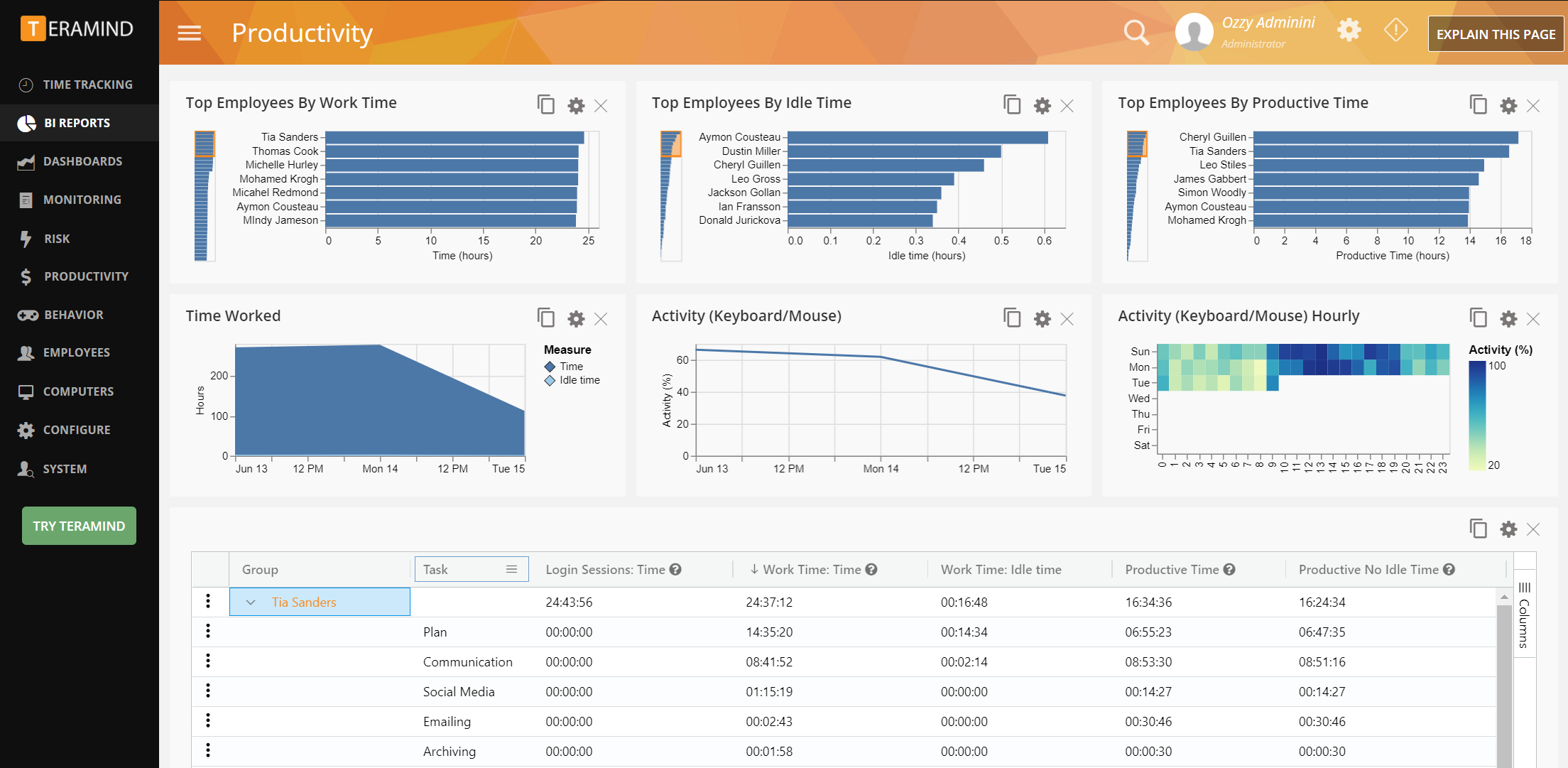 To set up Teramind for remote work and get even more out of these reports, the behavior policies and rules that are used to create the report can also be customized to highlight activities that are particularly problematic for remote workers, like inactivity. When working remotely goes unchecked, it's easy for employees to sign in but not necessarily show up; behavior policies and rules alert administrators if such inactivity is happening.
Included in the BI reports is another way to measure and track the productivity of your remote employees: expense tracking. Using this metric, administrators are able to filter by employee or task to see how much an employee is earning or the labor cost of a task or project as a whole. Knowing these totals helps remote managers and business owners analyze the cost of assignments, and if they're over budget help identify where a project can be tackled more efficiently.

Keep your team connected (and productive!) while working remotely
On the user side, Teramind also provides ways to remind your remote workers to stay focused on tasks while they're working. Using the same behavior policies and rules mentioned before, alerts can be set up to let remote employees know if their activity is becoming unproductive. Policy violation alerts send notifications to users' screen to let them know if they've spent too much time idling or on websites that are labeled as unproductive.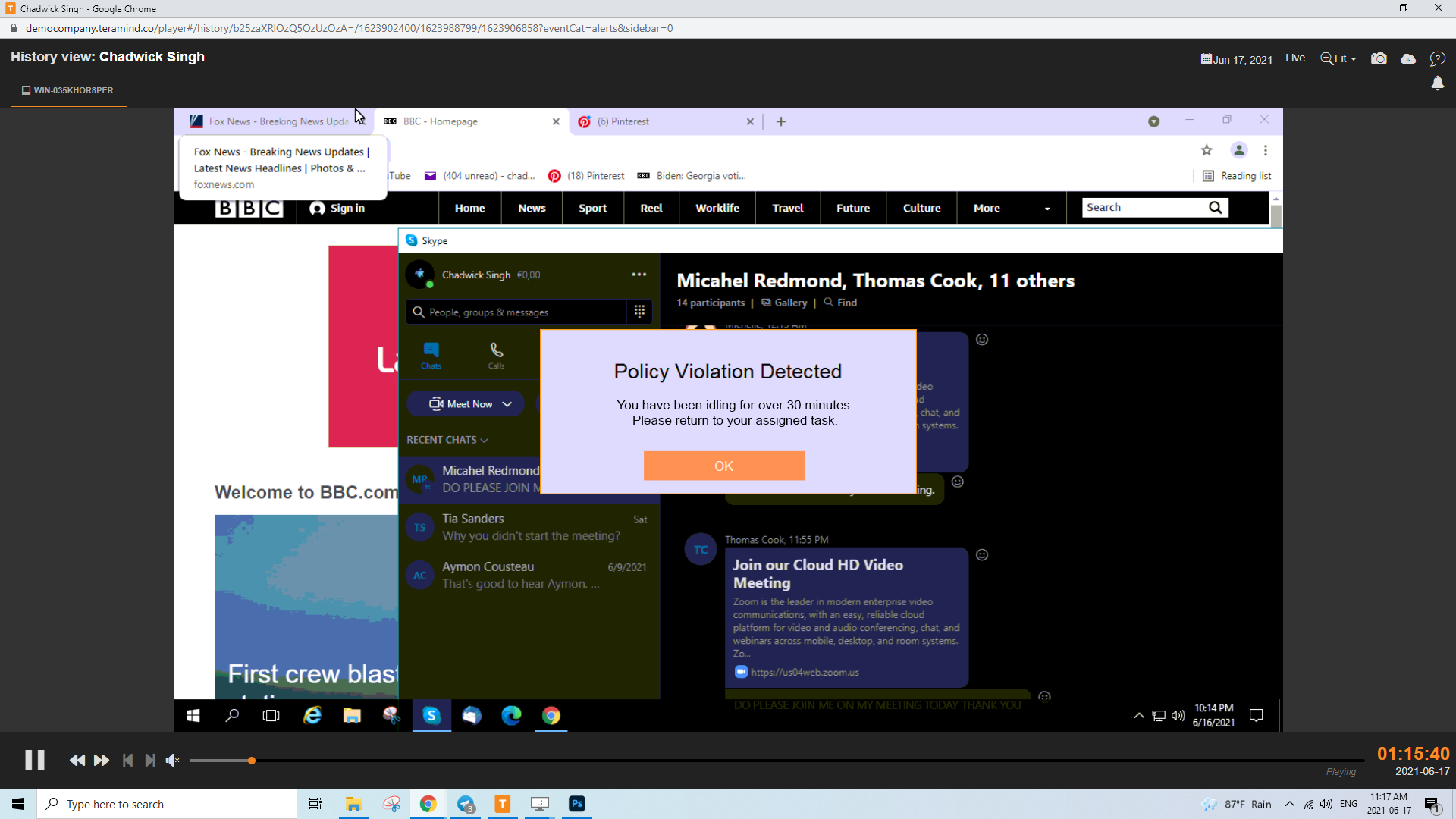 Teramind also offers a simpler tracking tool for businesses with a "less is more" approach, too. Using the Teramind Web Clock-In or Teramind mobile apps, organizations are able to track log-ins, tasks and attendance without installing the Teramind agent on remote employees' machines. Though the Time Tracker app provides less information that the desktop agent, managers and administrators will still be informed into how much time is being logged.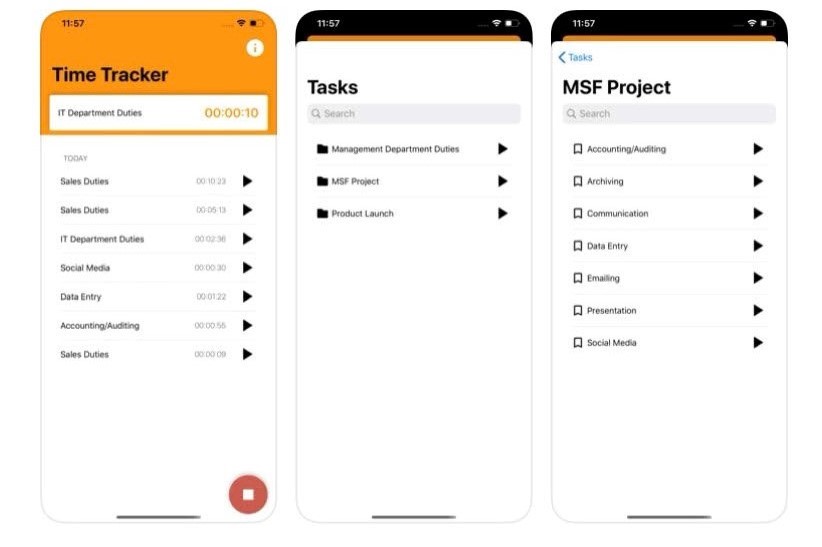 Privacy Focused Endpoint Monitoring
The line between professional and personal is often blurred with a remote staff that works from home, especially if remote employees use their own personal devices for work. The idea of endpoint monitoring in these cases may feel intrusive, but productivity monitoring can still be performed without sacrificing employee privacy. 

Update Your Remote Recruitment to Find Remote Workers You Can Count On
Teramind offers two types of monitoring–the Revealed Agent and the Stealth Agent. The Stealth Agent, or Hidden Agent, runs Teramind in the background without needing to log in or notifying the user that their activity is being monitored. While this option isn't as transparent, it's great companies employing full time remote workers that use company-provided equipment. Otherwise, companies relying on freelancers and remote employees using their own devices may find The Revealed Agent better suits their team.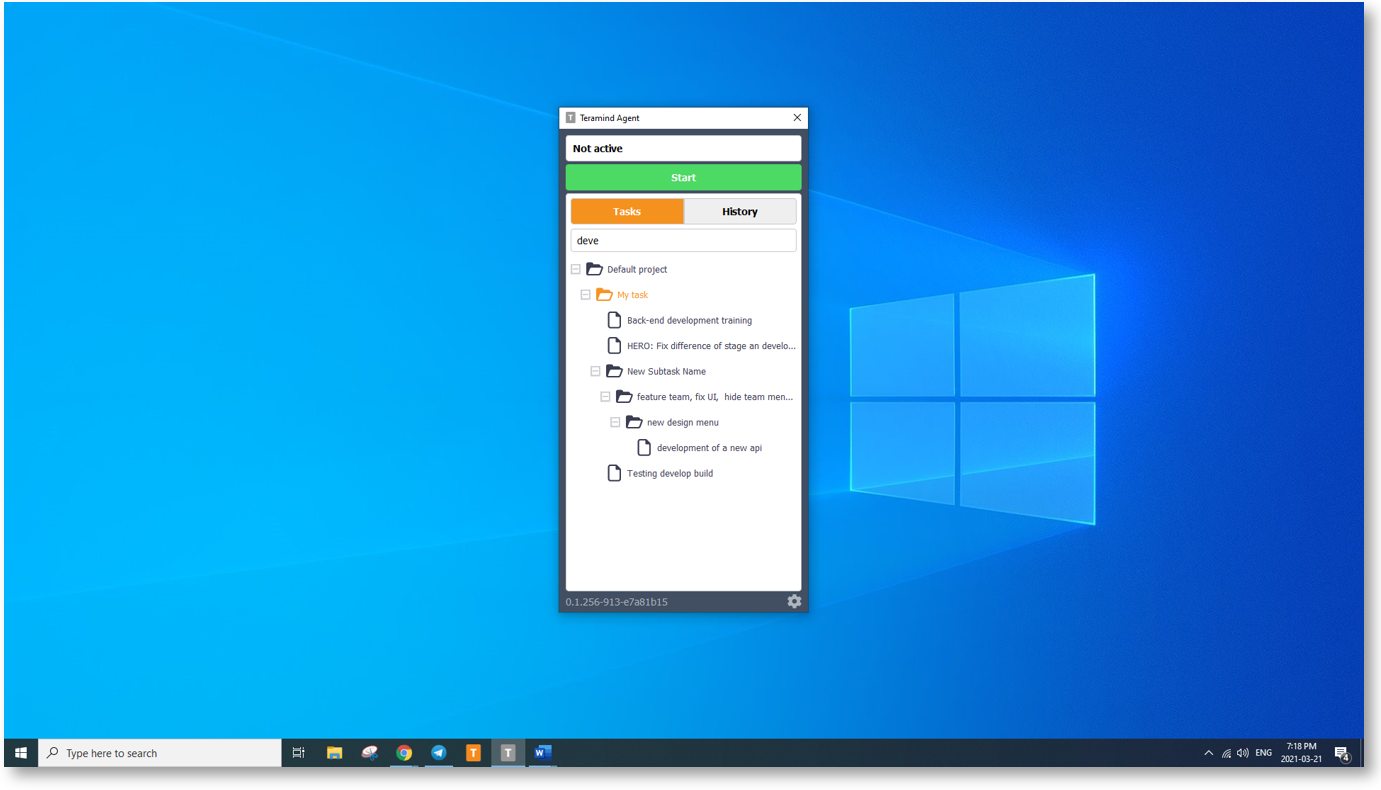 With Teramind's Revealed Agent, users decide when the agent is on and monitoring and when it is off. Doubling as a time-card tool, this allows remote employees the flexibility and autonomy that comes with remote work while still providing companies with productivity and performance data.
Using the Revealed Agent is user-dependent. Employees must sign in to the Teramind Agent and begin a session and sign out when they want the session to end. If you'd rather implement the lower maintenance Stealth Agent that constantly runs in the background, but want to do so with privacy in mind, a secondary user account specifically for work can be created on the end-user's computer and outfitted with the Teramind Stealth Agent. This way, employees can freely use their devices as they'd like with a clear separation between work and personal use.
Data Protection For Your Remote Team
Teramind for remote work is useful for more than employee productivity. Aside from tracking employee activity to monitor performance, it also acts as a frontline defense against data threats. Using the same behavior policies and rules used to track productivity, administrators are also able to monitor risky data behavior like uploading company files to unauthorized platforms or sending emails containing privileged information to an email address outside of the organization. Teramind's Live Mode takes data security a step further.
Live Mode allows administrators to view user desktops in real time and take control of the desktop remotely if need be. A great everyday application of Live Mode is remote training, since it gives admins the ability to control the desktop and steer the wheel. During a live data threat event, it becomes even more helpful. Say, for example, an administrator gets an alert that a user is transferring company data in violation of a company policy. The system administrator may use Live Mode to view what's happening on the desktop, remotely take over and immediately stop the data transfer.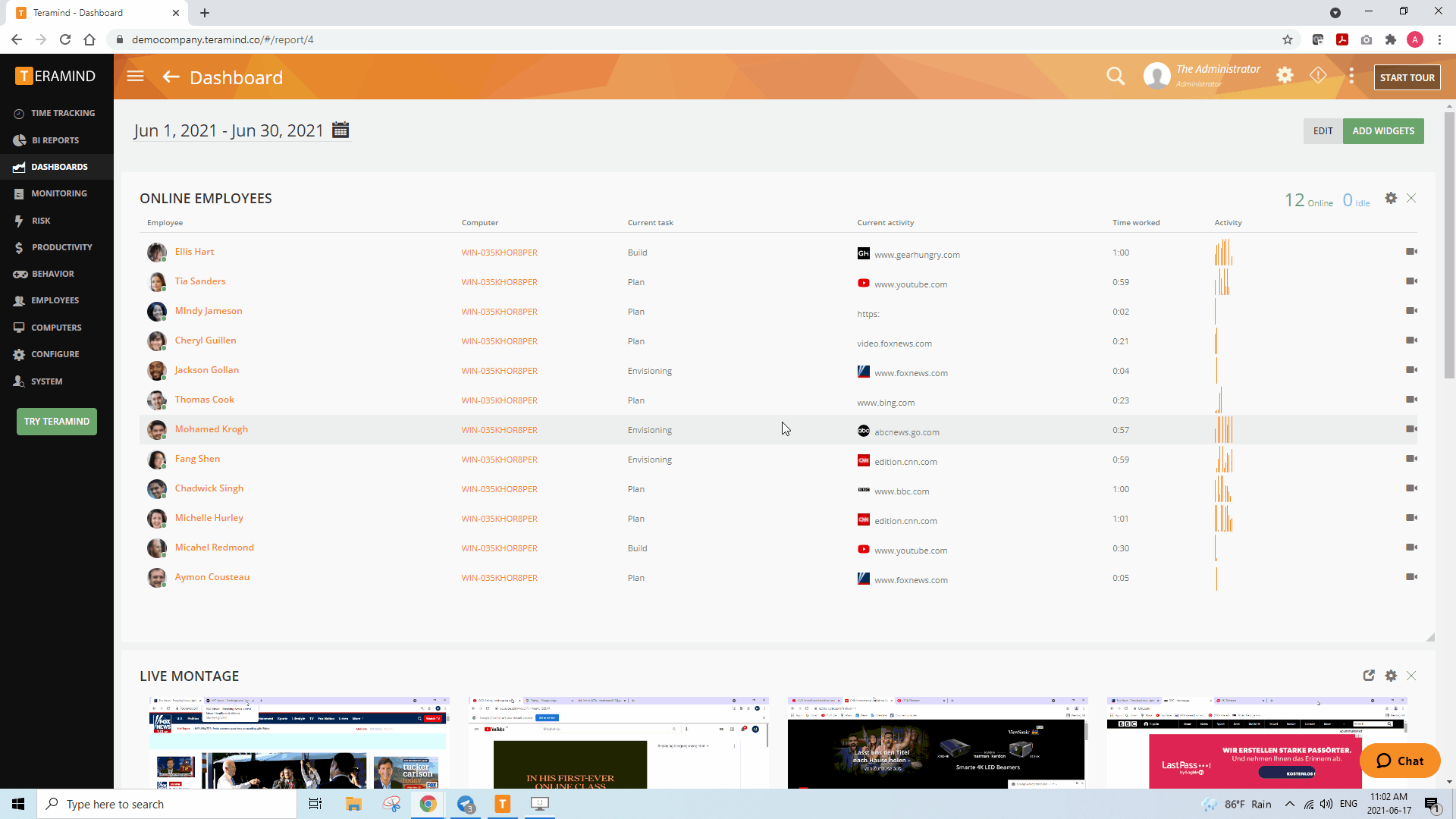 While Live Mode is only available when a user is signed into the agent, Teramind's Offline Monitoring enforces behavior policies and rules even when a user is signed off. Using Offline Monitoring with a Stealth Agent gives the option to monitor and track user behavior within a 24-hour period of the user being active which ensures company data is protected after working hours.
Managing Teramind Remotely
The way companies manage their remote teams differs from organization to organization. Whether your coworkers are signing into a company network, using a terminal server or working independently, the Teramind agent features built-in options that can adapt to your workflow.
For instance, built into the Teramind system management is a remote deployment option. This option makes it easy for system administrators to deploy and manage the agent on multiple remote machines at once. Once the agent is installed, behavior changes and new rules are updated in real time; and if using the Teramind On-Premise Cloud option can be updated automatically.
Beyond end-user installation, Teramind also works for remote terminal servers and networks. By installing the agent onto the terminal server, administrators can monitor and track all of the users while they're signed into the server even while remote. Network Monitoring works similarly. Once the agent is installed onto the network, Teramind can track network activity and report any abnormal network behavior like suspicious IP addresses and off-hours sign in attempts.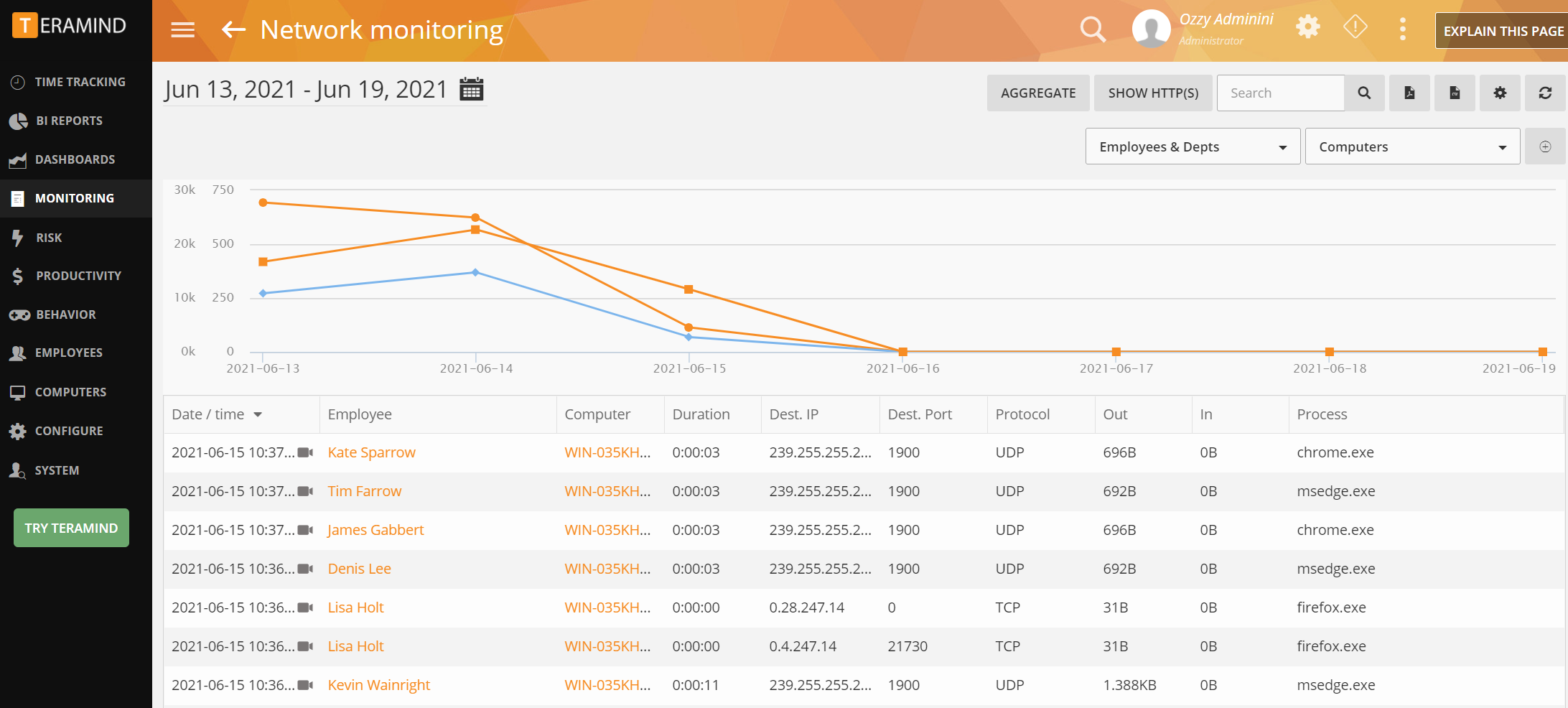 Teramind For Remote Work & Your Remote Team
Whether your company is new to remote work or veterans in the industry, it's necessary to use easily manageable, remote-focused software that helps your remote team and eases remote management processes. When set up for remote work, Teramind acts as a powerful management assistant tool that provides workers with privacy-peace of mind while supplying managers with metrics that keeps their remote teams productive.