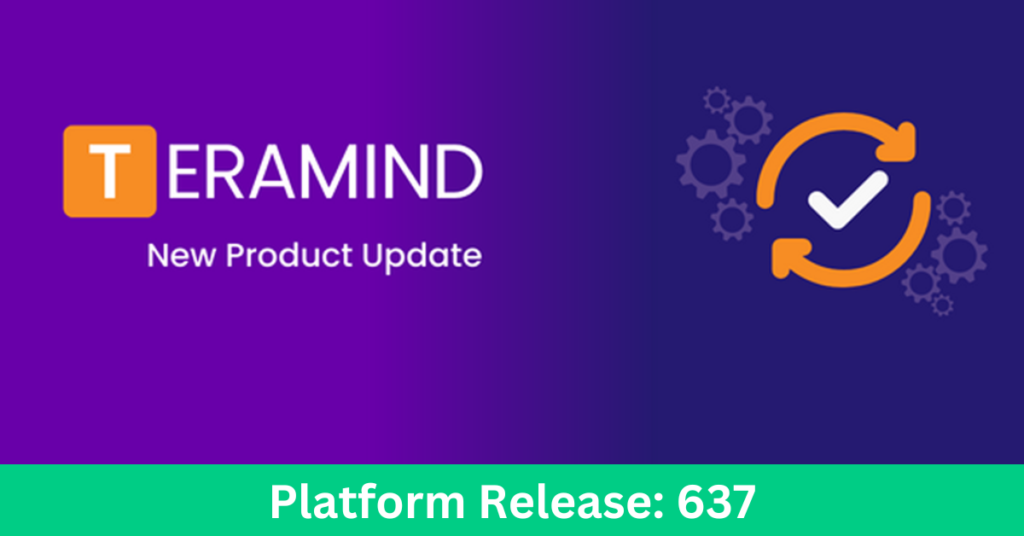 Product Release
Introducing New Features Across the Platform | Release 637
Check out the highlights from our most recent update, Platform Release 637 with 265 new features and enhancements. See the highlights below. For a full rundown, check out the complete Release Notes here.
User Activity Monitoring
Conditional Audio Recording for Enhanced Privacy
To help you record important conversations while respecting employee privacy, we have added a new option to the monitoring settings for Audio recordings to capture audio only when the microphone is used by select applications. For example, record audio only in the company's meeting app such as MS Teams. You can use the Shared List feature to create a whitelist of apps to simplify setting up the condition.
Track Webcam Usage
Our new Camera Usage monitoring report allows you to monitor employees' use of webcams to understand when and how they are visually interacting and for what purposes. Easily track productive tasks (online meeting) or unproductive tasks (personal IM call), or use it to enhance security by identifying potential risks (webcam used in suspicious apps during a confidential meeting).
Like the rest of our monitored elements, you're also able to build rules relating to webcam use; enabling you to create and automatically enforce secure and privacy-first webcam policies.
Track Online Meetings on Zoom Web
You've had the ability to track online meetings on the Zoom desktop app already, but now you can track them over Zoom Web too!
Detect Local IP Addresses to Improve Network Security
A new rule criterion, Local IP is now available in Activity-based Networking rules. The new condition detects local IP addresses in a network connection and adds another layer of security to subnets and enables you to detect and enforce policies pertaining to local and external VPN connections.
Workforce Productivity & BPO
Create Custom Productivity Categories to Classify Employee Activities
Now, you can create custom productivity categories according to your company's needs. Creating your own categories enriches your specific productivity data and enables you to assign different productivity labels to the same activity depending on users and departments. The new custom productivity categories are found in the Configure menu.
New SIEM Event for Our Custom BPO Solution
We introduced a new event for SIEM integrations. In addition to being used for security and fraud detection use cases, complete customization of this feature allows it to be used for any BPO use cases including workflow analytics, performance monitoring, customized time tracking and so on.
Application Security & Privacy
Remove User Data Easily to Meet GDPR Compliance
Now, it's easier for our on-prem customers to remove user data in order to stay in line with GDPR's data erasure and right to be forgotten mandates.
Restrict What Employees Can Access on Their Dashboards
We introduced two options that enable you to better control what employees can view/edit when they log into their own dashboard. With this new feature you can disable or enable self session reports and self editing. This comes in handy for transparent monitoring and allows employees to see their monitored data without sacrificing data accuracy or employee privacy.
Disable Authentication Confirmation If You Don't Need It
Currently, an admin or privileged user is required to confirm sensitive changes to the Teramind Dashboard (ex: editing the account info, updating departments, etc.) which serves as a security measure. We have added an option to Disable the confirmation dialogue to steamline editing if you have to make a lot of changes at once.
Administration & Management
Automate Task & Time Tracking With Agent Launch Parameters
We added a few launch parameters to the Revealed Agent on both Windows and Mac that will let you automatically log in a user, start a task, hide the UI, and more; and make the Revealed Agent less obtrusive by hiding pop-up messages and interactions while reducing the system footprint.
Decide When to Receive Notifications About Offline Computers
Previously, the NOTIFY WHEN OFFLINE option would let you receive a notification email the moment a computer went offline. The new option, COMPUTER OFFLINE THRESHOLD allows you to specify when the notifications are sent so you can prevent notification fatigue and create a notification policy that fits your infrastructure by setting different thresholds for your critical systems and workstations. Access this option from the Computer's Details > Edit Info/New Employee and Employees > Bulk Edit screens:
Find And Override the Causes of Blocked Updates
In the past, remote Agent updates might be blocked by Windows because of a pending reboot. Now if this happens, the Notifications screen displays the reason(s) for the blocked updates, while a new button on the Computers > Computer's details screen enables you to ignore the block and continue the update so you never miss an action related to update operations.
Reduce Alert Fatigue by Controlling Alert Volume at The Rule Level
Now, you can apply alert limits to each rule individually. Available for cloud and on-premise users, this Advanced Mode feature reduces false positives, saves analysts' time, limits your integrated SIEM's bandwidth consumption and protects the SIEM log threshold.
Delete Exported Videos to Free Up Resources
You now have the ability to remove exported videos. We have added a Delete option to the System > Video export screen that will allow you to delete an exported video or remove ongoing exports from the queue enabling you to more easily free up resources and keep your Video Export list free of clutter.
Get Notified as Soon as New Agent Updates Are Available
If you update your On-Premise server with a new Teramind Update package (TMU) and the TMU includes a new version of the Teramind Agent, you will see a notification on your Teramind Dashboard so you never miss an update or new release.
Integrations
Track Custom Business Processes on Your SIEM Solution
We've added a new SIEM event that will help you capture any custom business processes. This feature works in conjunction with our fully customizable Business Process Optimization (BPO) and In-App Field Parsing professional services – giving you complete freedom in tracking your unique business processes and how/where you use the process data you collect.

Use Your Own Custom Configurations for AD Synchronization
On-premise users can now import your own custom configurations to the Teramind-Active Directory (AD) integration making configuration updates easier with greater control over sync execution method and formulating items like search logic, filters, and actions such as assigning users to a department.
Mac
Record User Activities Even When Offline
Support for the offline recording feature on Mac Hidden/Stealth Agent is now available under Monitoring Settings. With offline recording enabled, you can still collect activity data and enforce policies, even if the agent goes offline. This type of continuous coverage and uninterrupted policy enforcement enriches incident investigation telemetry, furthers your productivity data and explains activity gaps.

Use Shared Lists to Simplify Monitoring & Behavior Rules
Shared Lists in Behavior Rules and Monitoring Settings have also been added to Mac. You can create a Shared List to create complex rules and save time setting up application monitoring profiles. For example, you can create whitelist/blacklists or websites and applications and share the list across different rules without needing to re-enter the web and app data each time. Updates made to Shared Lists will automatically update the conditions of the Rules where it's used.
Control How Network Interceptions & Certificates Are Handled
For Mac users, now you can control how the Teramind proxy certificate will be injected into websites and/or how the network packets will be intercepted for better troubleshooting, compatibility and privacy. Use the new network monitoring settings for SSL and Track Network Connections to customize how you capture network events like web browsing vs connection statistics, or to turn off tracking network activities but still implement network-based behavior rules.
Uninstall the Agent Remotely, From Your Dashboard
For easier and faster endpoint management, we have activated the Uninstall Agent from PC option under the Computers and the Computer's Details screen for Mac so you can uninstall the Hidden/Stealth Agent from a computer remotely from the dashboard:
Automate Agent Behavior with Launch Parameters
Our new launch parameters for the Revealed Agent on both Windows and Mac allow you to automatically log in a user and start a predefined task. This is useful in situations where you want to run the Agent from another application or script. For example, if you already use a time-tracking application and still want to use Teramind for detailed user activities and recording the screen.
Other New Features & Improvements
There's a lot more packed into this release with several general enhancements to monitoring, reporting and the UI like improved password field detection and IPv6 Support for Zoom and MS Teams. Check out the full list here to get the details.