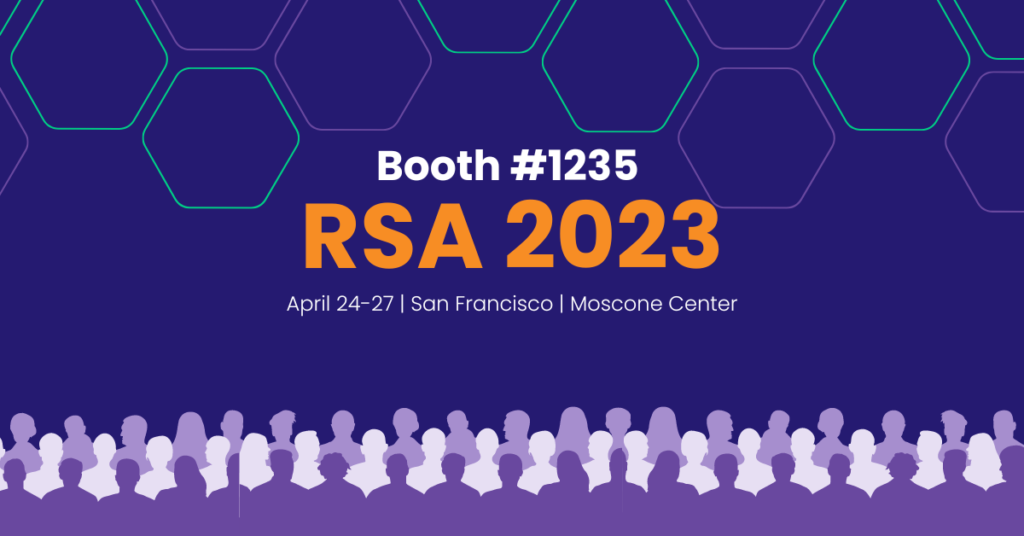 Announcement
Catch Teramind in Action at RSA 2023!
We couldn't be more excited to join our fellow industry leaders at RSA 2023 in San Francisco! If you're heading to RSA 2023 this April, be sure to visit us at Booth 1235 to say hi and see what's new since we last saw you. Here's what we're excited to share at RSA this year!
More Data, More Use Cases
Data collection is at the core of Teramind's function, and we've been focused on creating new ways to gather even more user activity data than before. Our monitoring capabilities have expanded to deliver deeper analytics and add more context to behaviors like registry monitoring, our new geofencing functionality, and WebEx chat monitoring. And those are just the appetizers.
Because we collect so much activity data so granularly, we're able to serve any behavioral use case in your organization – from insider threat detection, compliance management, behavioral data loss prevention, and beyond. The continued expansion of our core capabilities proves that.
Last year we showcased this in a big way with the release of two of our most powerful features to date: In-App Field Parsing and Scriptable Rule Logic. In-App Field Parsing enables you to track field-level data such as an account number as users view and interact with it, even in custom apps; while Scriptable Rule Logic gives you the power to make any user action a metric to track.
New monitoring features means we're able to bring you new solutions too, like our recently released Business Process Optimization solution. In order to truly understand and optimize business processes and eliminate risks, accurate and in-depth activity data is needed to first paint a detailed picture of how work gets done at your organization; and that's exactly what Teramind's behavior analytics delivers.
Better Integrations, Better Reports
Along with more ways to capture user activity, we're also excited to bring you easier and expanded integrations that offer more flexibility in your data dashboards.
Now you can easily incorporate Teramind into your Business Intelligence environment. Combine Teramind's data analysis with the rest of your BI data including HR platform data or CRM and access it all from a single, unified view. Built around Teramind's own reporting and dashboards, you'll be able to query, analyze and transform all of your BI data in SQL and build custom dashboards and reports using our highly customizable and dynamically visual reports.

Greater Dedication, Greater Success
The last few years have also involved significant development outside of our growing product capabilities. Now, there's new ways for customers to get more out of Teramind and reach new levels of success with behavior analytics. Here's what else we've been working on:
The customer voice comes first and our product roadmap is a testament to that. Teramind Wishlist is our interactive feature request forum where customers share, vote for, and track ideas for how to enhance the Teramind platform and voice what features or updates they want next.
When you visit us at RSA, our team may look bigger than it did at our last event. That's because we are! Our customer base has grown quite a bit since the last time we were on the road, and we've expanded our customer success and support teams to exceed the needs of our customers and guarantee they're equipped for success.
Customer success and support isn't the only area of growth either. To continue to meet market demand, we've also broadened and revamped our Partner Program. With a flexible deal structure and improved benefits for partners, the new program helps us expand our reach and bring Teramind experts directly to you.
Meet with Teramind at RSA
We've had a lot happening at Teramind lately and we're excited to show you what we've been up to while we stepped away from the event circuit.
Are you heading to RSA? We'd love to see you there! We have more than one way to get in touch with us in San Francisco so you don't miss the chance to chat with us.
Book a Meeting Time: Our team will be on site and taking meetings during the entire event. Act now and book a meeting with us at Moscone Center in San Francisco before slots run out!
Join us for Happy Hour: We'll be hosting a happy hour on Wednesday, April 26th at the Alchemist Bar and Lounge. RSVP ahead of time to ensure you get a spot
Visit Booth #1235: Find us inside Moscone Center at Booth #1235. Stop by to speak to a Teramind expert or catch a 10-minute demo presentation. We'll be there all week!