Data, Workforce and Cyber Security Resources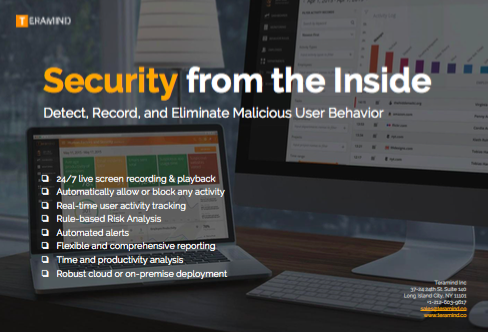 Security from the Inside
Take an in depth look at Teramind security features and product solutions:
Live Session Recording
User Activity Tracking
Prevention and Notification
Privacy Protection & more!
Eliminating Insider Threats with Teramind
brochure
Insider threats are a growing risk for businesses. Early detection and management is the key.
Session Recording with Teramind
brochure
Teramind is a leader in XenDesktop® & XenApp® session recording. Our session monitoring software captures all user activity within Citrix XenApp® published applications and on XenDesktop® virtual desktops.
Use Teramind to index any text that users see on their screens.
The Complete Guide for Detecting & Preventing Insider Threats
brochure
Insider threats, while insidious and destructive, can be prevented with the right layers of defense in place. With a rigorous combination of technology, policy enforcement, and general employee education, companies can safeguard their organization from attacks.